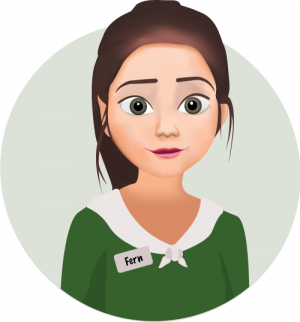 Introducing Fern!
Grey Power Electricity's newest digital employee.
Fern is a chatbot. You can chat to her and ask questions about your Grey Power Electricity account.
No wait times and Fern is available to help you 24/7!
What can you ask Fern?
Fern is still learning, so she may not have all of the answers yet! The more you chat to her, the more she will learn.
It is best to ask one question at a time and use simple or short phrases.
Fern can help with
Your account balance
When your next bill is due
Payment options
Moving house
Ordering LPG refills
Registering for My Account
Help with your Broadband and Landline connection
If you would like to talk to our Customer Care Team, simply type "Chat to a person" and our team can help you Monday - Friday from 8am - 5pm.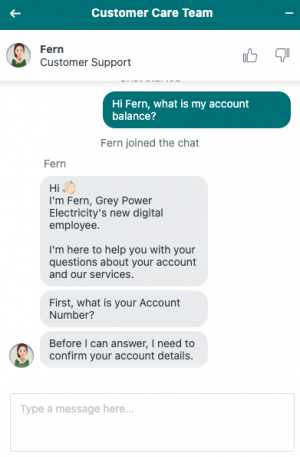 What you can expect when chatting to Fern

No wait times
When you chat with Fern you will receive instant answers

Fern is available to help 24/7
Simply ask her one question at a time and use simple or short phrases

Fern can answer specific account queries
Like your account balance and when your bill is due

Fern will ask you a couple of security questions
To verify she is speaking to an authorised person on your account. Make sure you also have your Account Number handy
Fern can't wait to chat with you!